Philadelphia, PA – Yesterday Bethlehem University in the Holy Land presented a Doctor of Humanities, honoris causa, to Cardinal John Patrick Foley, a longtime supporter of Bethlehem University and tireless advocate for the people of God and the Catholic Church throughout the world, and especially in the Holy Land.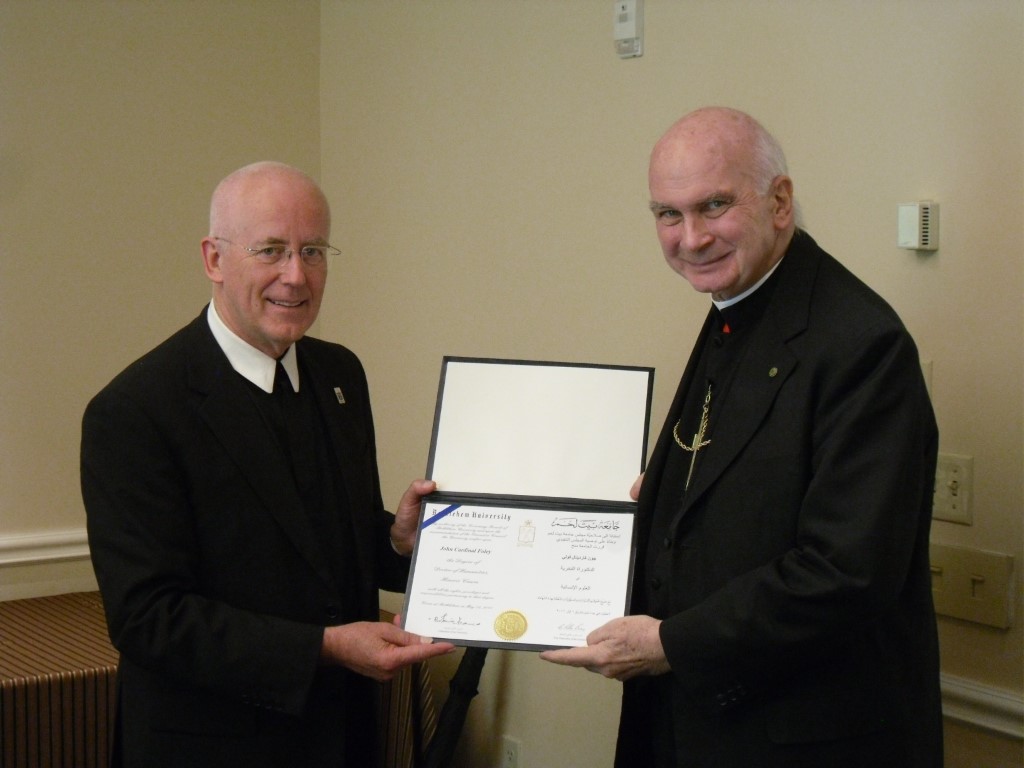 In 2007 His Holiness Pope Benedict XVI appointed Cardinal Foley as the Grand Master of the Equestrian Order of the Holy Sepulchre of Jerusalem, which he led until his resignation due to illness this February. Cardinal Foley has significantly enhanced efforts of the Order in providing for the needs of the Latin Patriarchate of Jerusalem and the various initiatives of the Lieutenancies of the Equestrian Order to support the Christian presence in the Holy Land.
"The commitment of Cardinal Foley to the Church is unsurpassed," said Br. Peter Bray, Vice Chancellor of Bethlehem University. "His encouragement of pilgrimages to the Holy Land has enabled thousands to deepen their faith in God, through the grace of the Holy Spirit."
"In his years as Grand Master, Cardinal Foley expanded the Order into new lands and reached record levels of membership," Br. Bray said. "At the same time he increased support for Bethlehem University, the only Catholic university in the Holy Land, and as well as for many other brother and sister Christian institutions in the Holy Land. Bethlehem University is pleased to be able to award this honorary degree to Cardinal Foley in recognition of his significant support, and the impact of the members of the Equestrian Order, especially in the field of education."
Born in Sharon Hill, Pennsylvania, Cardinal Foley was raised in the Holy Spirit Parish. He attended St. Joseph's College and obtained a Bachelor's degree summa cum laude in history, and then studied at St. Charles Borromeo Seminary, earning a Bachelor's in Philosophy. He furthered his studies at Columbia University's School of Journalism, earning his master's degree in journalism. As a graduate student at the Pontifical North American College in Rome, he received his Licentiate degree in Philosophy and his Doctorate cum laude from the Pontifical University of St. Thomas Aquinas (Angelicum). Before serving as the Grand Master, Cardinal Foley led the Pontifical Council for Social Communications for 23 years, from 1984 to June 2007. At one time he was editor of The Catholic Standard and Times, the newspaper of the Roman Catholic Archdiocese of Philadelphia. He now resides in suburban Philadelphia.