Bethlehem University staff and faculty were happy to once again welcome Ms. Lesley Dawson, a one time instructor at Bethlehem University. Ms. Dawson was met by several excited faculty and staff members, who remember her passion for work as well as the extraordinary contributions that she made to the university, in particular to the physiotherapy program.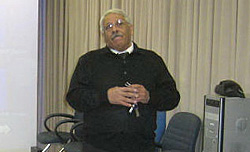 Ms. Lesley was joined by Ms. Jo Simister, a trustee at the Living Stones of the Holy Land Trust, as well as a small group, which visited Bethlehem University for a tour and discussion on the latest happenings on campus. Mr. Nabil Al-Mufdi, Director of Hotel Management, welcomed the group to campus and thanked the support that the organization has provided for the
Tourism program throughout the years.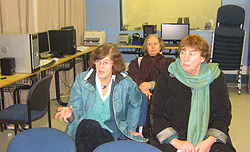 Br. Joe Lowenstein, Special Projects Coordinator was also very pleased to have been a part of the welcoming staff to the group, as he has known Ms. Lesley for many years and was glad to see her on campus again. Ms. Mariam Awad, Dean of Nursing, also welcomed the group to campus while they were enjoying the tour around Bethlehem Hall, which contains the Nursing department.