Bethlehem University recently welcomed visitors from the Archdiocese of St. Louis, Missouri, led by Monsignor Shamleffer, travelled to the birth place of Christ, and stopped at Bethlehem University to learn more about higher education in the Holy Land.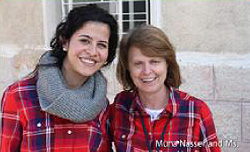 University staff and faculty were delighted to have the chance to host the the St. Louisans, who currently are hosting Bethlehem University graduate Berlanty Azzam, currently attending Fontbonne University, thanks to the support of Fontbonne President Mr. Dennis Golden and the Shaw family. For some members of the group, it was the first time to personally visit the campus grounds and the documentary detailing the story of Berlanty, who is a witness to what she and so many other students have faced to get an education.
The group toured through the grounds and engaged in a question and answer session with university student ambassadors, who share their own opinions with their guests on what life is like as a Palestinian student. Following the session was a lunch, served in the Hotel Management training restaurant, where epicurean delights are offered daily.
Such encounters are beneficial to both visitors and hosts, who are often surprised how much they actually have in common, despite their geographical differences. Not only are both Missouri and Palestine host to nationally beloved breweries (Anheuser-Busch in St. Louis and Taybeh Beer, Taybeh-Palestine) but there are also the little things that people share, like fashion taste.