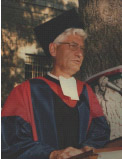 Bethlehem University mourns the death of Brother Anton De Roeper, former vice-Chancellor of Bethlehem University. Brother Anton passed away peacefully on Saturday 18 May 2019 in the UK, a few days short of his 85th birthday.Brother Anton first came to Bethlehem University in 1977 as a lecturer, leaving in 1979 to lecture at Hopwood, Liverpool before returning to BU as vice chancellor (1986 – 1993).
After a sabbatical at Oxford, Br Anton was appointed Institute Education Secretary in Rome till 2008. Brother Anton left Rome to serve for a short stint in South Sudan, before retiring to Clayton Court in the UK.
He will always be remembered as a great Educationalist.
May his soul rest in peace.