"The students' reaction during science fairs is our source of motivation and inspiration. School students think we perform magic when they see the experiments," group leader Randa Alobayyat said.
Randa is one of twenty-five students who run a science outreach program in the West Bank called Science4People. The team demonstrates physics through simple experiments that can be performed with easily accessible materials.
Sunshine4Palestine, a British / Italian non-governmental organization, helped a group of computer science and physics students at Bethlehem University to start the outreach program nearly two years ago.
"Sunshine4Palestine logistically, morally, and financially supported
us to promote science among students aged 8 to 18 years old"
Dean of the Faculty of Science Dr. Michael Hanania.
The team aims to communicate scientific concepts in new ways. Their desire to move away from traditional pedagogical methods is an effort to appeal to the change in learning style among younger generations.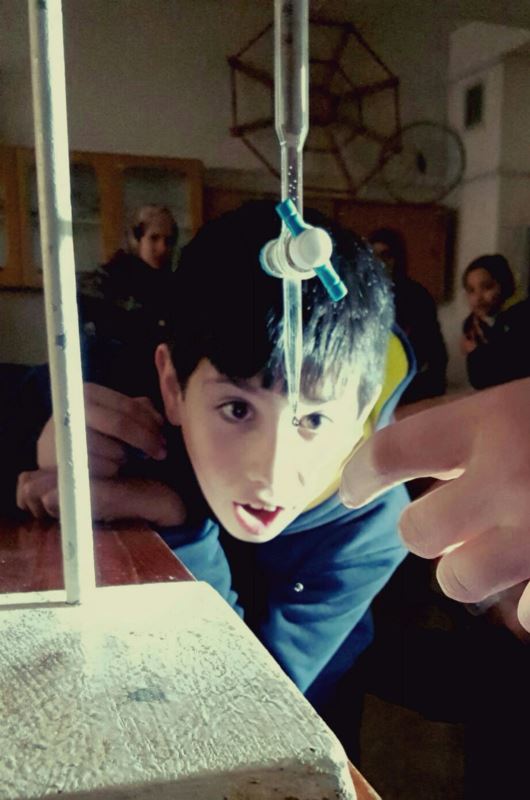 The team organizes interactive science fairs for students in various primary schools to bring the power, utility, and fascination of science to students who are lacking science equipment as well as resources.
In April 2018, four members traveled to Italy to receive training in assembling, programming, and maintaining 3D printers. They were gifted a 3D printer to be used at Bethlehem University.
With international success under their belts, the team hosted their first science fair in Bethlehem in August 2018. It was the first of its kind in Palestine and open to the public. Many families and students came from neighboring cities to attend the fair.
Being registered with the European Physical Society through the Young Minds project, the students collaborate to develop scientific, networking and outreach activities to extend the love of science to young Palestinians.
Science4People has been receiving extra attention and care from the Faculty of Science at Bethlehem University with hopes to expand and reach even more students in the coming months.
This article appeared in the Bethlehem University magazine of Spring 2019 (Volume 26 – Issue no. 2). Click here for the latest issue.