"I eagerly await Fridays so I can play with the children and put smiles on their faces," Christine Handal said.
Christine, a third-year student majoring in Primary Level Education, took part in the Faculty of Education's Art Club during the 2019 spring semester.
The Art Club was established in 2014 by students in the Faculty of Education who underwent their practical training at the Crèche – Holy Family Children's Home in Bethlehem. These students wanted to provide children at the orphanage with activities that allowed them to engage with the community.
The club arranges a weekly program for the children of orphanages around Bethlehem. The program includes painting, drama, music, short stories, and educational games for children aged four to nine years.
Children are given the chance to interact with others their own age as well as university students.
The club encourages students to develop positive attitudes towards volunteering. It also helps them professionally by providing valuable experience in working with children and connecting with the community.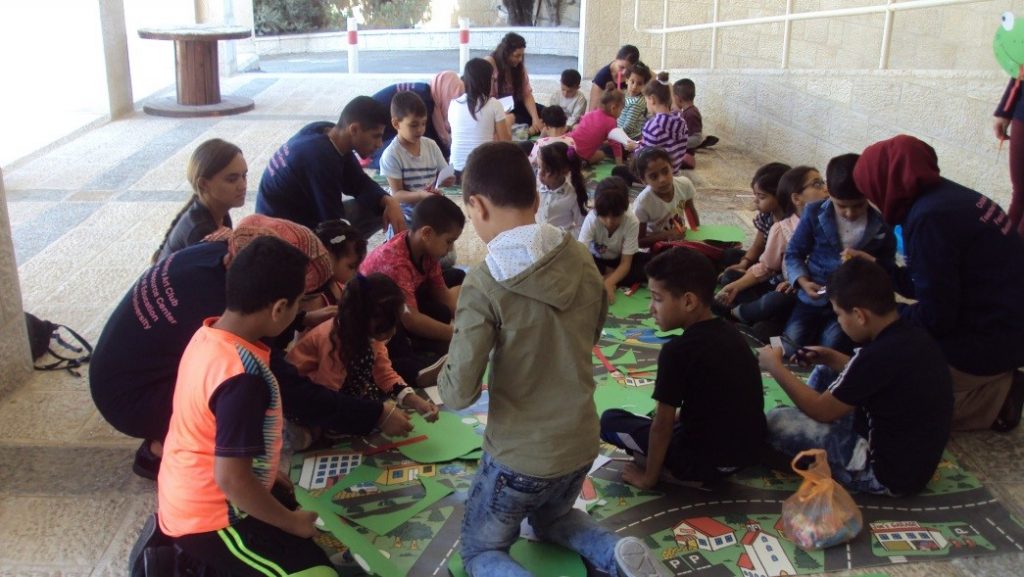 "Volunteering with the club helped me better understand children and their needs," Christine said. "They are so sensitive that a piece of paper different than their friends' could make them sad, and a simple game might make them happy."
Dean of the Faculty of Education Dr. Hala Rashed said, "Many university students described being part of the club as life-changing.
"It is a great opportunity to make a huge difference in the lives of many young children, and students often learn far more than they imagined they would."
The mission of the Art Club is to encourage and empower Bethlehem University students to use their creative skills, enhance their portfolios, and gain more confidence while, at the same time, integrating the children into the community.
Basheer Alnamora, a third-year education student, says he was trying to change the difficult reality these children live through with the activities he prepared for the club. He still remembers their laughter which encouraged him to develop simple ways and methods to identify their abilities.
This club is one way that Bethlehem University supports the local community and its institutions.
This article appeared in the Bethlehem University magazine of Fall 2019 (Volume 27 – Issue no. 1) Click here for the latest issue.