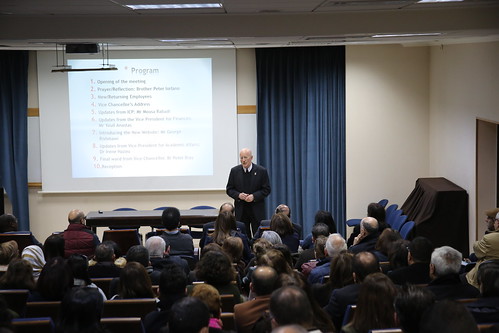 Bethlehem University held its faculty and staff meeting on Wednesday, 15 January 2020, to mark the beginning of the spring 2020 semester.
Opening prayer and reflection were led by Brother Peter Iorlano, Coordinator of Institutional Values, based on the Lasallian theme for 2020 "Great Things Are Possible".
Dr. Irene Hazou, Vice President for Academic Affairs, presided over the meeting, welcomed faculty and staff, and gave Deans and Chairs of Departments the opportunity to introduce new faculty and staff members.
In his welcoming speech, Vice-Chancellor Brother Peter Bray encouraged the faculty and staff to imagine what the University will be like in 2030 and to work towards making it a better place.
Important updates from the Vice President for Financial Affairs Mr. Youil Anastas, Director of Institute for Community Partnership Moussa Rabadi, Communications Officer George Rishmawi, and Vice President for Academic Affairs Dr. Irene Hazou were also presented.
Our best wishes for a successful second semester.
More photos below,,