The usual graduation plans, that were supposed to be held in June, have been derailed by the coronavirus. Bethlehem University decided to hold four in-person graduation ceremonies in November. This extended schedule is due to an effort to keep everyone safe during the pandemic.
Bethlehem University conferred degrees upon Graduates of the Faculty of Arts, Faculty of Sciences, Faculty of Business Administration, and Institute of Hotel Management and Tourism during its 44th graduation ceremonies that were held on Tuesday and Wednesday, 3 and 4 November 2020.
The events took place at the Auditorium in the Social Cultural Center in the presence of the Chancellor, H. E. Msgr. Leopoldo Girelli, the Vice Chancellor, Br. Peter Bray, the Deans of the faculties, Faculty and Staff members, and the Graduates.
The ceremonies that normally pack the auditorium were capped at 180 Graduates with no guests allowed. Attendance was around 250 for each ceremony with masks required.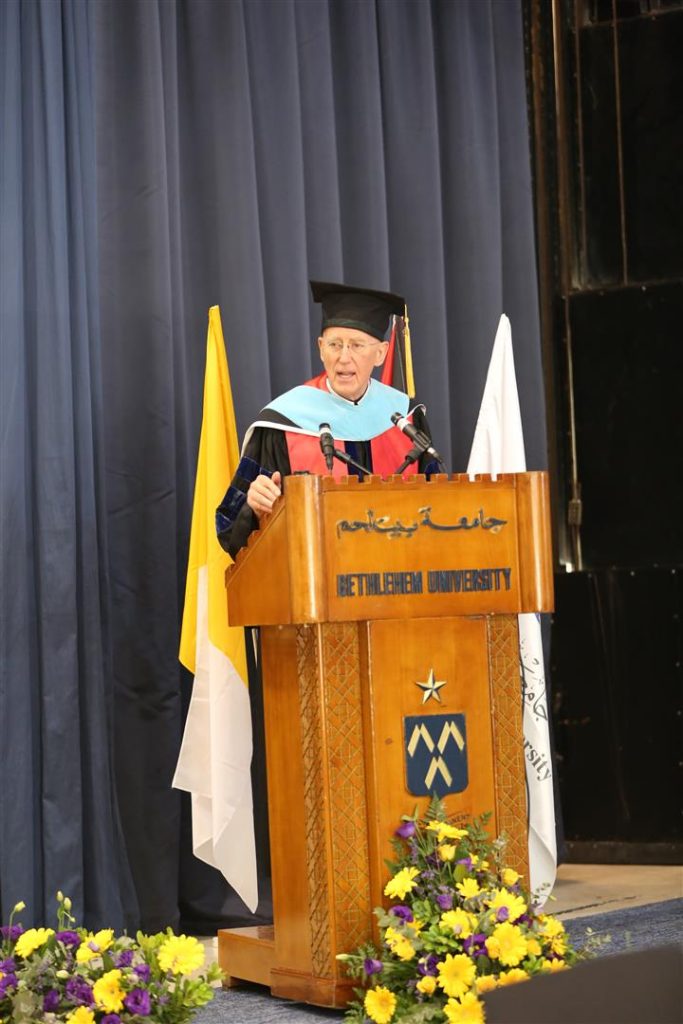 After the national anthem and the anthem of the University, the Assistant Vice President for Academic Affairs, Dr. Muna Matar, served as Master of Ceremonies, welcomed the Graduates and congratulated them on their well-deserved success.
In his address, the Vice Chancellor, Brother Peter Bray said, "We really miss the presence of family and friends, and it is unfortunate that parents cannot be present to share the joy with their children as they receive their first university diploma. However, thanks to technology, they were able to watch the ceremonies online."
"Today is recognizing that the graduates have completed their time here and will leave Bethlehem University to serve their society and their local communities. We trust they will prove to be good ambassadors for Bethlehem University, but more importantly, to be worthy citizens serving the common good of their community and of Palestine."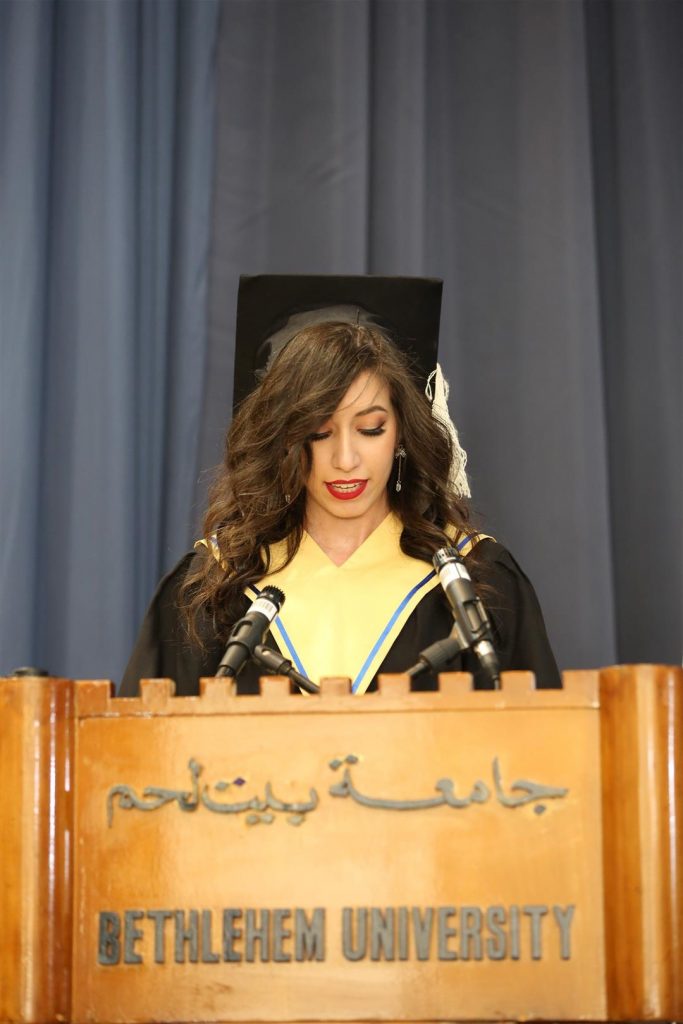 Aseel Abul Hawa, and Maria Alyatim, Class of 2020 Salutatorians, gave the graduate speeches on Tuesday, and Nicole Sabat, Class of 2020 Valedictorian, gave the graduate speech on Wednesday.
The Graduates were eloquent in their speeches which expressed their hopes for the future after their successful time spent at Bethlehem University. They expressed pride in their achievements and the achievements of their classmates, in addition to thanking the Faculty and Staff of Bethlehem University for their dedication, patience, and inspiration.
The Most Reverend Leopoldo Girelli, Apostolic Delegate to Jerusalem and Palestine and Chancellor of Bethlehem University, Vice Chancellor Brother Peter Bray, and assisted by Vice President for Academic Affairs Dr. Irene Hazou conferred the degrees and diplomas to the Graduates on both days.
On Tuesday, 10 November 2020, a similar graduation ceremony for the Faculty of Education graduates will be held, and on Thursday, 12 November 2020, for the graduates of the Tarek Juffali Faculty of Nursing and Health Sciences.
This is the first time in the University's history to hold four different graduation ceremonies.
Photos of the Graduation ceremonies: