The Grand Master of the Equestrian Order of the Holy Sepulcher of Jerusalem (EOHSJ) His Eminence Cardinal Fernando Filoni accompanied by the Latin Patriarch of Jerusalem His Beatitude Patriarch Pierbattista Pizzaballa and the Apostolic Delegate to Jerusalem and Palestine and Chancellor of Bethlehem University His Excellency Archbishop Adolfo Tito Yllana visited Bethlehem University on Wednesday, 11 May 2022.
Vice-Chancellor Brother Peter Bray and the Bethlehem University Administration welcomed the delegation on campus.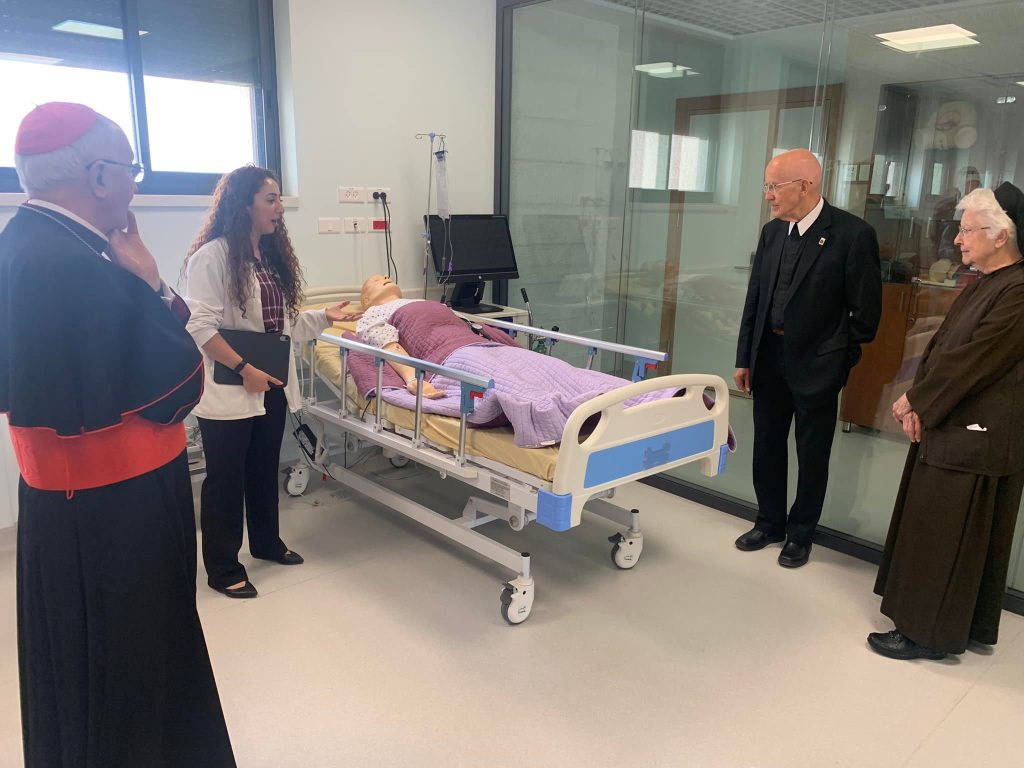 His Eminence Cardinal Filoni's first official visit to campus included a tour of the Cardinal Foley Hall, the building that houses the Tareq Juffali Faculty of Nursing and Health Sciences and which was named in honor of His Eminence John Patrick Cardinal Foley, the late Grand Master of the EOHSJ, who was a great friend of Bethlehem University.
The delegation enjoyed lunch at the training restaurant of the Institute of Hotel Management and Tourism served by the students.
The EOHSJ is an international Catholic order that supports Christians in the Holy Land and is a long-time supporter of the University. Their continuous support contributed to many projects and scholarships at Bethlehem University.
The delegation included:
His Eminence Cardinal Fernando Filoni, Grand Master of the Equestrian Order of the Holy Sepulchre of Jerusalem (EOHSJ)
His Beatitude Patriarch Pierbattista Pizzaballa, Latin Patriarch of Jerusalem
His Excellency Archbishop Adolfo Tito Yllana, Apostolic Delegate to Jerusalem and Palestine and Chancellor of Bethlehem University
His Excellency Professor Agostino Borromeo, Professor Agostino Borromeo, Lieutenant General of the EOHSJ
His Excellency Ambassador Leonardo Visconti di Modrone, the Governor-General of the EOHSJ
Fr. Maxim Baz, Secretary of the Cardinal
Mother Alice Mae Vergauwen, FSE
Sister Raffaella Petrini, FSE, Secretary General of Vatican Governorate
Rev. Fr. Firas Aridah
Rev. Fr. Khaled Ghamo
Mr. François Vayne, Director of the Communications Service of the Grand Magisterium of the Order of the Holy Sepulchre in the Vatican
Mr. Giuseppe Beneplacido