About the Project
Start Your Business is a three-year program funded by the Italian Agency for Development Cooperation (AICS) and Fondation Assistance Internationale (FAI). The lead partners and general coordinators of the project are VIS (International Voluntary Service for Development), an Italian NGO working in the economic development field, and Bethlehem University.
Overall objective
Promote sustainable and inclusive economic growth in Palestine, through the development of a positive environment for the creation of new start-ups, traditional and social businesses in the areas of Bethlehem, East Jerusalem, Hebron, Ramallah, Tulkarem, Jenin and Jericho.
The project aims to tackle 3 main SDGs:
SDG 4
Ensure inclusive and equitable quality education and promote lifelong learning opportunities for all
SDG 8
Promote sustained, inclusive, and sustainable economic growth, full and productive employment and decent work for all
Project News & Updates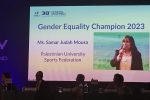 November 17, 2023
Ms. Samar Araj Mousa, Director of Athletics at Bethlehem University, was awarded the…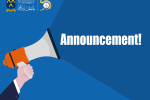 November 16, 2023
The Representative Office of Ireland in Palestine is accepting applications under the Ireland-Palestine…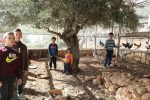 November 15, 2023
The Palestine Institute for Biodiversity and Sustainability organized a special educational event on…
How to reach the goal?
Start Your Business aims to cope with some basic needs:
Unemployment and need of new and innovative job opportunities
Lack of skilled labour force in the industrial sector, despite the low level of unemployment among TVET graduates
Lack of involvement of vulnerable people into the local market
Developing a positive environment for the creation of new start-ups, traditional and social enterprises, through:
1- Support of incubation and acceleration processes for traditional and social businesses
12 Information events/6 Hackathons/5 training courses
5 competitions to select 80 startups
exchange visits in Italy
Creation of a group of "angel investors"

Set-up of a new BBI/YSBC office
2- Training of competent working force, including vulnerable young people and women
Short-term professional courses
18 "Start your business" training courses in 6 Technical Schools
Capacity building of the Career Service Office of the Salesian Technical School in Bethlehem
Update of BU website and social network pages.
3- Awareness and advocacy actions towards the local civil society
Launch of a Social Business Awareness Campaign
Launch of a Women's work and entrepreneurship Awareness Campaign
Organization of two business forums
Creation of research agendas on social business and social enterprises
Hackathons
What - How - Why
What is a Hackathon?
Hackathons are events where experts, mentors, developers and participants work together with the aim of collaborating and designing solutions. They can last a day or even a whole week.
 Start Your Business aims to create 6 Hackathons covering 6 different business areas. Hackathons are opportunities to identify new start-ups or innovative ideas in which to invest.
How is it organized?
Usually the event starts with a presentation of the topic of the meeting. Participants move on to proposing ideas and forming teams according to their interests and skills. Generally, the final part is reserved for the presentation of the projects, their evaluation and the declaration of the winners.
At the end of the hackathons, participants present their results and a jury evaluates the work and awards the most meritorious ones.
Why would you participate?
The Hackathons are excellent opportunities to share ideas, work and projects in a context of collaboration and creativity, focusing on skills and promoting the realization of projects in a short time.