Mission and Objectives
The mission of the Curriculum and Pedagogy Department in its programs: Upper Basic Level and  Teaching Diploma is to qualify pre-service and in-service teachers with the necessary pedagogical knowledge, skills, attitudes and professional competences of the teaching profession. These programs dedicate their efforts to:
provide teachers with long-life learning skills, effective communication skills, and creative and critical thinking skills in order to meet the needs of changing Palestinian society.
develop teachers' professional capacities in using effective strategies and techniques through the integration of modern educational technology in teaching-learning process.
deepen their support and commitment towards the values, ethics and morals of the teaching profession.
Faculty of Education News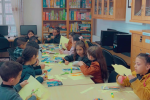 December 16, 2022
On Friday, 16 December 2022, the Faculty of Education through…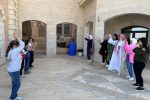 October 29, 2022
On Friday, 28th of October 2022, the Faculty of Education,…
Upcoming Events
No Events Available