ICP provides the following services and interventions:
1. Training: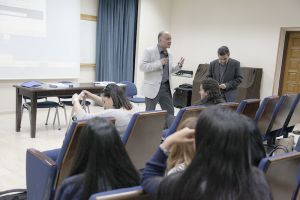 ICP's commitment to providing high-quality training and development interventions  rests on its belief that the Palestinian community is eager to learn and improve its skills and develops its institutions. ICP seeks to contribute to creating and building a cadre of skilled professionals who can provide effective organizational and institutional management, as well as community leadership towards the intended change.  ICP also strives to blend Palestinian culture, values and context with modern technological and scientific developments in its training activities and services.
The training activities of ICP range from seminars, workshops, short and long training courses to special application diploma programs consisting of a number of modules in a specific field targeting the development and upgrading of a specific skill. These programs are designed on the basis of ongoing needs assessments within the community. ICP improves its programs through a continuous process of monitoring and evaluation of its training activities and their graduates. The main focus in all these activities is placed on providing hands-on training, emphasizing the concept of gender sensitivity and learning by doing, and the sustainability of skills acquired in training in the work environment, applicability of training to the actual work setting, and impact on the quality of participants' performance.
1.1 Off the Shelf Training Activities
ICP Off-the-Shelf training programs are designed according to ongoing Needs Assessments within the Palestinian community. The results of NA and Evaluations of previous training programs are used to design programs that enhance knowledge, skills and attitudes in both management and technical fields.
1.2 Tailor Made programs
ICP Tailor-made programs are designed to help organizations successfully deal with today's and future challenges. Our 'tailor-made' programs are tailored to the specific organizational needs to help in achieving its long-term goals, and making them the perfect route to strengthen its managers' leadership skills and overcome any strategic or management gaps in the organization. Special emphasis is placed on providing hands-on skill training for participants to be able to think locally and act globally.
1.3 Professional Diploma Programs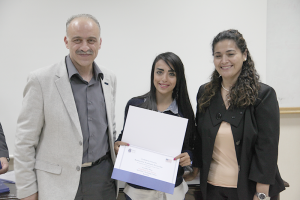 A professional Diploma is a program that lasts over a period of ten months to one year. The program is composed of eight forty-hour modules with a total of 320 contact hours (equivalent to 32 continuing education units).
Professional Diploma Programs may only be offered by continuing education departments of accredited universities. A certificate accredited by the Palestinian Ministry of Education and Higher Education is offered by the Institute for Community Partnership –Bethlehem University at the end of the program.
             1.3.1 Professional Diploma (Face-to-Face):
The professional diploma (face-to-face) utilizes various teaching and learning techniques, which include:  lectures, discussions, case studies, group projects, individual presentations, decision making exercises, fieldwork exercises and action planning.
The programs are in Five topics:
Public Administration
Cooperative Management
Prevention & Intervention of Drug Abusers
Community Trekking Tour Guide
Music Therapy
             1.3.2 Professional Diploma (Online):
The Online Professional Diploma Programs are the first diplomas in Palestine to offer courses using blended learning (a form of mixed 80% online and 20% face-to-face learning). The programs aim at assisting small enterprises in Palestine to develop their managerial capacities and be able to survive and gain a bigger market share in today's ever changing and globalizing business environment.
The programs are in three topics:
Small Enterprises Management
Project Management
E-Business
The E-Business and Project Management diplomas are the first in Palestine that tackled these subjects.
2. Research & Consultancy:
ICP has a diversified and extensive experience in conducting researches and providing consultancy interventions on a sector and organizational levels. Research at ICP employs a wide variety of tools such as literature review, surveys, focus groups as well as interviews. Data analysis is made using advanced statistical programs such as SPSS.  Design and reporting of research is undertaken by a team of experts in the area of concern as well as in research and statistical analysis.
In terms of Research, ICP has been involved in several projects to include among others the following: 'Mapping of Mainstream Civil Society Organizations in Palestine (UNESCO)', 'Institutional Evaluation of Bethlehem University' (the European University Association), 'Market-Testing for Several Drama Series' (Ma'an Network), Profile of Palestinian SMEs (Small Enterprise Center – GTZ).
For consultancy assignments, ICP uses diversified tools to achieve impact-based consultancy. Frequent meetings are conducted with the client to agree on the proper approach to achieve objectives and tasks as identified in the Terms of Reference. Depending on the TOR, activities for consultancy may include collection and analysis of quantitative and qualitative information through surveys, focus groups, as well as interviews; review of organizational systems and processes, review of relevant documents (project objectives, action plans, etc), identifying organizational gaps, implementation of change process, and assessment of impact.
Our services ensure that all stakeholders are involved in the process and follow a participatory approach in setting intervention goals and achieving them.
2.1 Needs Assessment
2.2 Baseline Survey
2.3 Sector Mapping
2.4 Project & program evaluation
2.5 Organizational evaluation
3. Media Production:
3.1 Video & Film documentary
3.2 Promotional Videos
3.3 Designing & conducting Media Summer Camp
4. Marketing:
4.1 Organizing exhibitions
4.2 Registration for Cooperatives
4.3 Certifications: IMO – FLO – WFTO
4.4 Matching small producers with buyers
4.5 Establishing Networks & Forums National & Regional
5. Incubation:
5.1 Contest
5.2 Technical & managerial coaching
5.3 Incubating business ideas
5.4 Business plans
5.5 Developing product prototype
6. Capacity Building & Organizational Development:
ICP offers consulting services to local Community-based Organizations (CBOs), Not-for-Profit, private and public institutions as well as International Development Organizations.
Services cover the following fields among others:
Facilitate the process of developing strategic plans to meet institution's purpose of existence and vision.
Provide organizational re-engineering for companies and institutions.
Design management information systems and assess automation possibilities.
Assist in human resource development; prepare job profiles and development plans.
Design production plans and quality control systems.
Design Financial and Administrative Systems.
Developing Communication System.
Prepare financial policies and plans.
Assess and evaluate new investment opportunities.
Conduct and develop Business plans and Business Models
Conduct Institutional and program Evaluation
Initiate and design Marketing solutions for Cooperatives, women associations, and Small scale businesses.