Spearheading Quality Teaching and Learning
PFDP roundtableOn February 11th and the 12th, Bethlehem University faculty participated in the 6th PFDP National Roundtable on Higher Education, part of a series of nine sessions devoted to on key issues in higher education for members of the faculty and administration of Palestine's major universities. The Roundtables take place each month from, starting in September, 2011 and will conclude with the last, in May, 2012.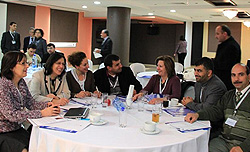 This sixth session, held in Ramallah, was entitled 'The University Teacher as Reflective Practitioner,' and featured Brother Peter Iorlano and Ms. Rima Dabdoub. Ms. Rima, Instructor in the English faculty and Master Trainer of the Palestinian Faculty Development Program, , offered comments and suggestions following the discussion of teacher development and their ability to improve teaching and learning at their institutions.
PFDP roundtableDiscussions involved a review and discussion of international best practices in critical areas of interest identified by PFDP alumni and higher education leaders in Palestine. International experts and specialists from Palestinian universities will collaborate to adapt international best practices to the Palestinian context.
Br. Peter, Bethlehem University's Coordinator of Institutional Values and teacher, led the last session of the roundtable, along with Dr. Ciaran Sugrue of University College, Dublin. Their discussion focused on two major issues that do not receive enough attention: the ethics of teaching and the professional responsibilities of the professoriate. They stressed that university teachers focus on his or her own professional development but also exhibit a sense of professional responsibility to the university, fellow faculty, and students, including a strong focus on and willingness to discuss the values and principles of ethical professional behavior. Br. Peter also made the case that in Palestine, the stress and pressure of working in an environment of occupation distracts attention from personal professionalism and ethics, in the midst of the classic burdens accompanying a university teaching career.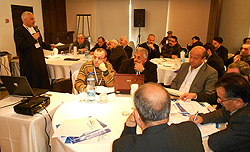 Along with representatives of the major Palestinian universities, representatives of the Central European University, Northwestern University, and Portland State University are also major contributors. Several Bethlehem University staff and faculty have also participated in past Roundtables. For more information on the PFDP project, click here.
The list of Roundtable topics, concluded and future are as follows:
2011
September 23-24: The History and Development of World Higher Education Systems (Ramallah)
October 22-23: Principles and Methods of Project Evaluation (Bethlehem)
November 18-19: Strategic Planning (Jericho)
December 3-4: Distance Learning and Quality Assurance (Ramallah)
2012
January 13-14: Community Engagement and University Development (Ramallah)
February 11-12: The University Teacher as Reflective Practitioner (Ramallah)
March 16-17: Developing and managing Education Programs (Ramallah)
April 21-22: Community Engagement (Ramallah)
May 18-19: Leadership Development in Higher Education (Ramallah)