Gerry O'Hare, an Oncology Nurse Specialist, and Dr. Noelle O'Rourke, Consultant Clinical Oncologist from Glasgow, Scotland, visited Palestine to conduct a 2 day teaching conference on the 6th &7th of March at Bethlehem University. The visit followed collaboration with Mariam Awad, Dean of Health Studies University of Bethlehem.
Twenty-five of Palestine's top nurses working in cancer units throughout Palestine attended the 2 day study conference, which covered a range of topics related to oncology management and palliative care of cancer patients. It is hoped this event will supplement the oncology and palliative care knowledge of the participating nurses and establish close links between Scottish and Palestinian medical professionals.
Cancer training Dr. O'Rourke is a senior Clinical Oncologist at the Beatson West of Scotland Cancer Centre in Glasgow, Scotland. O'Rourke has particular interest in management of lung cancer and lymphoma and is recognized internationally for her publications in prestigious oncology journals.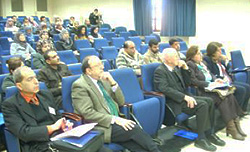 Gerry O'Hare is also an employee of the Beatson Cancer Centre and has been an Oncology Nurse Specialist for 14 years. Gerry has a specific interest in oncology management of breast and lung cancer, including symptom control in advanced cancer.
The training was sparked by a visit to Palestine that Gerry conducted last year, when he met a number of cancer medics and nurses who described the difficulties for patients and staff due to the challenges posed by the political situation in the country. He was welcomed to the Nursing Dept at Bethlehem University by the current Dean, Mariam Awad and they discussed the possibility of future academic teaching collaboration between Glasgow, Scotland and Palestine.
It is hoped that this conference will only be the first amongst future cancer training collaboration between Glasgow and Palestine. The project has been supported financially by Glasgow & Clyde Health Board, Scottish Cancer patient's who have generously donated to the project and Spirit Aid, the Scottish Humanitarian charity who has David Hayman the distinguished Scottish actor as the director of operations.