On Thursday 10 May 2018, Bethlehem University, together with the United Nations' Development Program/Program of Assistance to the Palestinian People (UNDP/PAPP) and the German Representative Office celebrated the inauguration of the additional floor at Al-Qubeibeh Nursing School, built with funds from the KFW Entwicklungsbank in Germany.
On 10th May 2017 the German Representative Office in Palestine, organized for the President of the Federal Republic of Germany, President Walter Steinmeier, to visit Al-Qubeibeh school, where he spent an hour in the Nursing home there and another one hour with graduates and students of the Bethlehem University Nursing program. President Steinmeier was impressed with what he saw and was made aware of the need for additional space in the facility.
Through the efforts of His Excellency Mr. Peter Beerwerth, from the German Representative Office, the response to this request very soon became a reality. Thanks to the very good relationship the Salvatorian Sisters have with KFW, UNDP and the people in the area, this project was finished in three months. This meant that exactly a year from the date of the President's visit the extension was opened.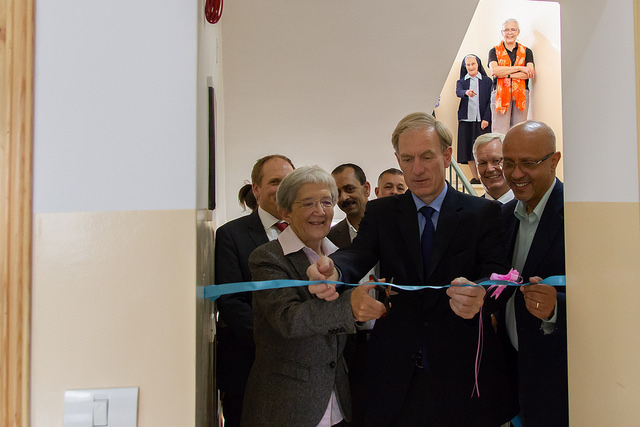 In June 2018, Bethlehem University will celebrate the groundbreaking of a new project for the Faculty of Nursing and Health Sciences at the Bethlehem campus. This will mean four new floors will be built on top of what is now the Institute for Community Partnership and the building will become the new home for the Faculty.
The building is to be named in honor of His Eminence John Patrick Cardinal Foley, the late Grand Master of the Equestrian Order of the Holy Sepulchre, who was a great friend of Bethlehem University. The Middle Atlantic Lieutenancy of the Order directed a gift of $1,500,000 towards this project. That single donation helped Bethlehem University get the fundraising for the project started and for that, it is deeply grateful. Since then other gifts have been received, and now only $800,000 is needed to complete this magnificent building.