As you walk through the second floor of the De La Salle building, you cannot but be amazed by the three icons written by Sr. Marie-Paul Farran, O.S.B.. The triptych was dedicated in August of 2010.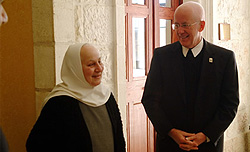 Sr. Marie-Paul passed away on Wednesday, May 8, 2019 at the age of 89 in Jerusalem leaving a legacy of an exceptional iconographer.
Protected and showcased by thick panes of glass, the triptych provide an opportunity for reflection on sacred and inspirational aspects of the Lasallian heritage of Bethlehem University.
The first panel represents John Baptist De La Salle, who was invited to become involved in schools and the training of teachers through Adrien Nyel, a layman who was dedicated to the education of poor boys in France. Today, laypeople comprise the majority of Lasallian educators. This panel of this triptych shows the encounter of John Baptist De La Salle with Adrien Nyel.
The center panel is a copy of the famous Holy Trinity icon of the great Russian painter and Orthodox saint, Andrei Rublev, reminding us of what God asks of all involved in the Lasallian tradition of Bethlehem University, to have a union of mind and heart so as to inspire God's love in the hearts of the students, inspiring them to good works and holiness in their lives.
The right panel of this triptych portrays the parents of Jesus, the Holy Family, models for Lasallian educators. The faith-filled Mary, the Blessed Mother, bore Jesus in her womb and brought the Incarnate Word into the world. Saint Joseph is the man who was entrusted with the care of a child who was not his own, "was just, …submissive to God's orders, …and had a very special solicitude for the education and protection of Jesus Christ."
Sr. Marie-Paul will always be remembered by her distinctive iconography around the world, and more specifically, the Bethlehem University community will remember her every time they walk the hallway on the second floor of the De La Salle Hall building.
Photo: Sr Marie Paul with Br. Peter Bray, Vice Chancellor during her re-visit of the icons in 2011