Mrs. Claudette Habesch, Chair of the Board of Trustees, has stepped down from Bethlehem University Board of Trustees after their meeting on Tuesday, 21 May 2019.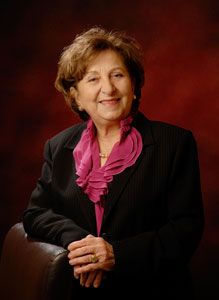 Mrs. Habesch has been on the Board for 22 years as a member including the last 3 years as Chair of the Board.
Vice Chancellor Brother Peter Bray said "Throughout my time here at Bethlehem University since 2008, and for many years before, Mrs. Claudette Habesch has been an outstanding supporter and promoter of Bethlehem University.
Her standing in, and understanding of, the local Bethlehem and Jerusalem communities, as well as her international connections, has enabled Bethlehem University to respond appropriately to the changing circumstances and needs of Palestinians. Throughout some very challenging times her advice and support has allowed Bethlehem University to continue offering the highest quality tertiary education.
Mrs. Habesch's particular interest has been in helping support needy students to complete their education. For the many ways she has enriched the lives of students at Bethlehem University over more than two decades, we are deeply grateful.
She will continue in her support role, but wishes to step aside from Board duties to encourage and enable other younger alumni and supporters to serve in this capacity."