Bethlehem University conferred degrees upon 764 graduates during its 43rd commencement on Monday and Tuesday, 24 and 25 June 2019.
The event took place at Auditorium in the Social Cultural Center in the presence of the Chancellor, H. E. Archbishop Leopoldo Girelli; Vice Chancellor, Br. Peter Bray; the Deans of the faculties; Faculty and Staff members; families of the graduates; Clerics; representatives of institutions; and officials.
The program began with academic procession arriving at the venue and taking their respective seats on stage and front rows.
After the national anthem and the anthem of the University, Dr. Said Ayyad, Chairman of the Arabic Department, served as Master of Ceremonies, welcomed the audience and wished success to all graduates.
In his address, Vice Chancellor Brother Peter Bray said "Our joy is your joy as we hand over these graduates – your children – back to your care after they have spent four or more years with us at the University."
"During those years we provided them with the opportunity to gain a quality higher education, with a university life that is dynamic, cultural, social, spiritual and innovative. We aim to prepare our students to become learned leaders so they can make a difference and improve their communities."
Bethlehem University was honored to host Bethlehem Governor, Kamel Humeid, a graduate of Bethlehem University class of 1989, as the guest speaker.
Humeid thanked the University administration for inviting him to take part in this day as they graduate a new batch of Bethlehem University graduates.
He congratulated the students and their parents saying that "from here, the birthplace of Jesus Christ, where the light began to face injustice, we cherish you our dear graduates to be loyal ambassadors of Bethlehem University and ambassadors of our country."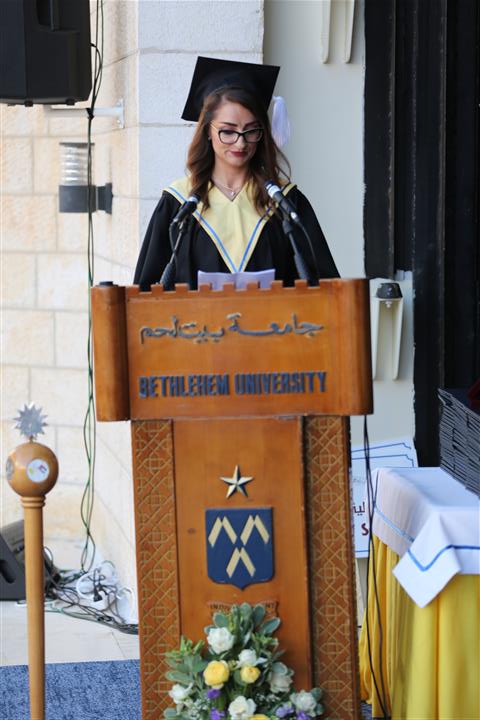 Bernadette Andonia, class of 2019 valedictorian, and Nivan Tawil, class of 2019 salutatorian, gave the graduate speeches on Monday and Tuesday respectively.
Both graduates were eloquent in their speeches which expressed their hopes for the future after their successful time spent at Bethlehem University.
They also expressed pride in their achievements and the achievements of their classmates, in addition to thanking the Faculty and Staff of Bethlehem University for their dedication, patience, and inspiration.
The Most Reverend Leopoldo Girelli, Apostolic Delegate to Jerusalem and Palestine and Chancellor of Bethlehem University, and Vice Chancellor Brother Peter Bray, conferred the degrees and diplomas to the graduates of the Institute for Hotel Management and Tourism, and the Faculties of Arts, Business Administration, Education, Nursing and Health Sciences, and Science.
Following the distribution of degrees, students were seen getting photographed in their customary convocation hats and gowns. Beaming with smile and pride, every student looked stunning.
Photos of the first day: