The English Department held a reading session and award distribution on Thursday, 12 May 2022, for the winning students of its Fifth Creative Writing Competition which was open to all university students this spring semester.
Vice Chancellor Brother Peter Bray congratulated the winners and then distributed the awards along with the Vice President for Academic Affairs, Dr. Irene Hazou, and the Dean of the Faculty of Arts, Mrs. Hanadi Sudah.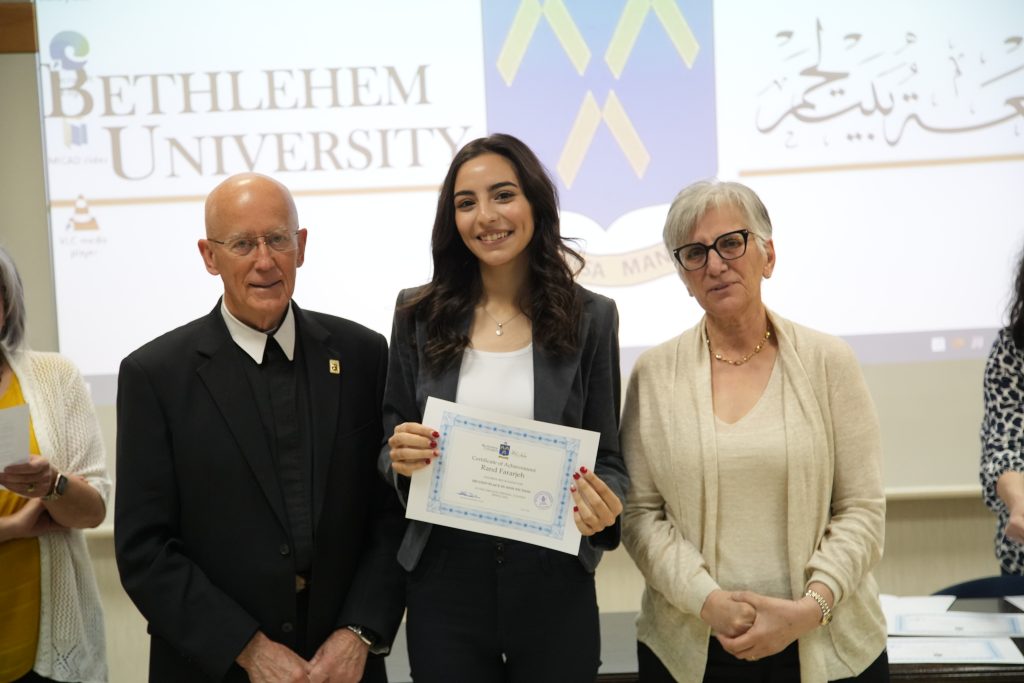 The Department received a record number of entries this year. Students were once again encouraged to submit an original piece of writing in English. The genres were open; students could submit works in poetry, short fiction, or reflections. 
All the entries were quite creative and showed the imaginative abilities of Bethlehem University students. A committee was set up to read and evaluate the works. The criteria of evaluation were based on three components, creativity, and language accuracy. After careful consideration by the committee, the best works in each category were chosen.
The winners of the Fifth English Department Creative Writing Competition 2022 are:
In the short fiction category, the winners are:
First Place: Zeina Ali Hasan
Second Place: Taleen Rahil
Honorable mention: Jocelyn-Marie Lama
In the nonfiction category, the winners are:
First Place: Zahraa Tawayha
Second Place: Rand Fararjeh
Honorable mention: Shoroq Raed Irjan
In the poetry category, the winners are:
Poetry
First Place: Eslam Dabank
Second Place: Haitham Abu Zeina
Third Place: Khader Khair
Honorable mention: Natalia Ghattas and Muhammad Salah
Congratulations to the winners!