The Office of the Dean of Research (DOR) held a webinar titled, "How to publish your articles in International Journals: Practical Considerations," the second in the Bethlehem University Research Group series for the 2022-2023 academic year, on Thursday, November 17, 2022.
Dr. Fadel Jobran-Sawayfa, Assistant Professor of Education, and Dr. Ibrahim Horoub, an Instructor at the Department of Interactive Media, shared their research journeys and discussed the various challenges they faced in publishing their studies in international journals indexed in Scopus or Web of Science. They also offered practical suggestions on how to publish in international journals and other venues based on their experiences and insights.
Dr. Jobran-Sawayfa, who completed his Ph.D. in education at the University of Chester in 2019, is currently working on a book based on his dissertation titled, "Travelling to the top of the mountain: The use of found poetry to explore Palestinian and Arab teachers' perceptions and experience of their participation in a drama in education summer school." His publications appeared in the Journal of Research in Drama Education, The Journal of Applied Theatre and Performance, and other collections.
Dr. Horoub completed his Ph.D. in Communication and Media Management at Girne American University in the Turkish republic of northern Cyprus. The title of his dissertation was "Citizen journalism and digital transformation: Palestine as a case study." His article, "Empowering leadership and Job Satisfaction of academic staff in Palestinian Universities; Implications of Leader-Member Exchange and Trust in Leader," was accepted for publication in the international journal Frontiers in Psychology.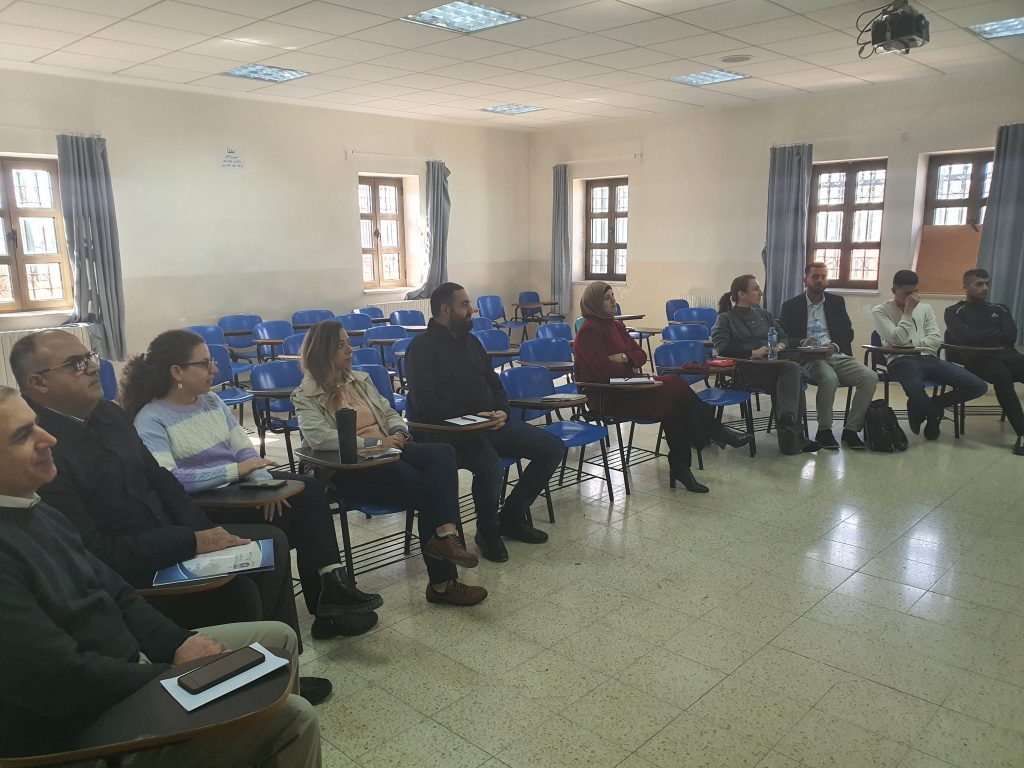 The speakers underscored the importance of research for their own self-actualization and satisfaction as researchers. Research, they added, should add original knowledge to the existing literature in the field.
They also gave different tips to help researchers increase their chances of getting their papers accepted for publication in international journals. For example, they emphasized the need for finding the right journal, to which articles should be sent to, and the need to follow the journal's submission guidelines in formatting the manuscript at the structural and stylistic levels.
They also highlighted the importance of dealing with rejection letters. Researchers, they stated, should not give up, when they receive a rejection letter. Instead, they should read these letters carefully, revise the manuscript accordingly, and send it to another journal in the field.
Faculty members and students from the faculties of Science, Business, and Arts attended the workshop. Issues regarding the politics of publication, especially when it comes to using controversial terminology regarding the occupation, and the damaging consequences of publishing in un-indexed journals without any Impact Factor were discussed.