Bethlehem University's Archeology and Cultural Heritage Program remains committed to advancing academic activities in the field of archeology and cultural heritage. Over the past week, the program successfully carried out two significant initiatives, further enriching students' knowledge and practical skills.
The first activity was a collaborative effort with the Pro Terra Santa Museum. The Archeology program organized a comprehensive training course on architectural drawing, with a particular focus on traditional and historic buildings.
This activity spanned three phases, with the initial two phases conducted on the university campus. Architect Lauren Abu Aziza from the Pro T.S. Museum led the training, guiding the Archeology students on the fundamental principles and techniques of archaeological and architectural drawing.
Architect Abu Aziza emphasized the crucial role of documenting traditional architecture and archaeological discoveries through architectural drawing. To put their newfound skills into practice, the students were tasked with drawing and documenting the facade of Bethlehem Hall on campus. The final phase of the training is scheduled for 26 May 2023, during which the students will receive instruction on drawing the architecture that was discovered during archaeological excavations at the Shepherd Field Archaeological Site in Beit Sahour.
Architect Lauren Abu Aziza from the Pro T.S Museum during the training of students on the bases of architectural drawing.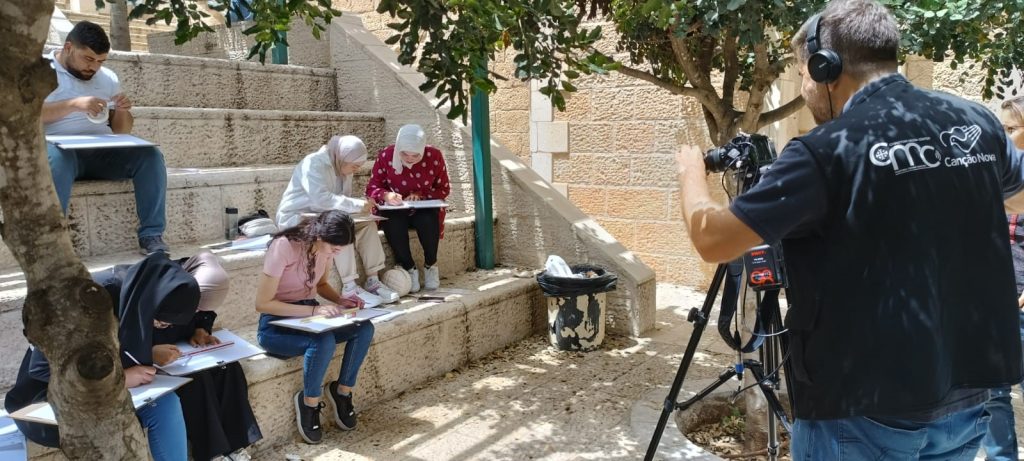 During the second day of the training, Ms. Hanadi Younan, Dean of the Faculty of Arts, and Dr. Omar Abed Rabo visited the students. They expressed their gratitude to Architect Lorraine Abu Aziza for her valuable contributions to the students' education and encouraged the students to grasp the foundational principles of drawing, recognizing its significance in preserving Palestine's tangible heritage.
In the program's second initiative, Dr. Raed Abdel-Masih actively participated in a workshop focused on the preparation of the National Register of Immutable Cultural Heritage. The workshop aimed to align with Resolution No. 11 of 2018 in the tangible cultural heritage law. Dr. Abdel-Masih shared the recommendations put forth by Dr. Abed Rabo and the program, emphasizing the need to raise awareness about the importance of antiquities and cultural heritage. He further stressed the necessity of engaging the community in educating Palestinians about preserving both tangible and intangible elements of their cultural heritage.