Bethlehem University is blessed with innumerable committed and loyal friends who believe in the mission of the University and the resilience of the Palestinian people. Among them are the two brothers featured here who stand out for their genuine love for their homeland and unwavering support of Bethlehem University. They are convinced that it is a moral duty to support Bethlehem University in its all-important mission of education. "Education is the way to an honorable life, the path to a successful business experience," as they articulate their own experience of success.
Both brothers affirm that their success in life is due to hard work, good upbringing- and a caring family along with opportunities provided to them all happening in the right place and at the right time. They believe that they are fortunate and blessed with their families and the fact that they are "Bethlehemites". Their central message is: "Give back!" "Keep hope alive!" "Empower the Palestinian youth with quality education by supporting Bethlehem University."
Bethlehem University, in this issue of the Jubilee Magazine, takes pride in featuring Mr. Bassam Aburdene and Mr. Elias Aburdene, two brothers who are our valued friends and staunch supporters of Bethlehem University for over 15 years.
Mr. Bassam Aburdene is a successful businessman who managed financial institutions in Saudi Arabia, the United States, Europe, the Middle East and North Africa. Mr. Bassam is happily married to Ms. Haifa Bandak Aburdene. His invaluable contributions to Bethlehem University date back to his involvement as a member of the Board of Trustees of Bethlehem University. He has generously contributed to Bethlehem University with his wife who, in turn, has supported as well the recently opened the John Patrick Cardinal Foley Hall.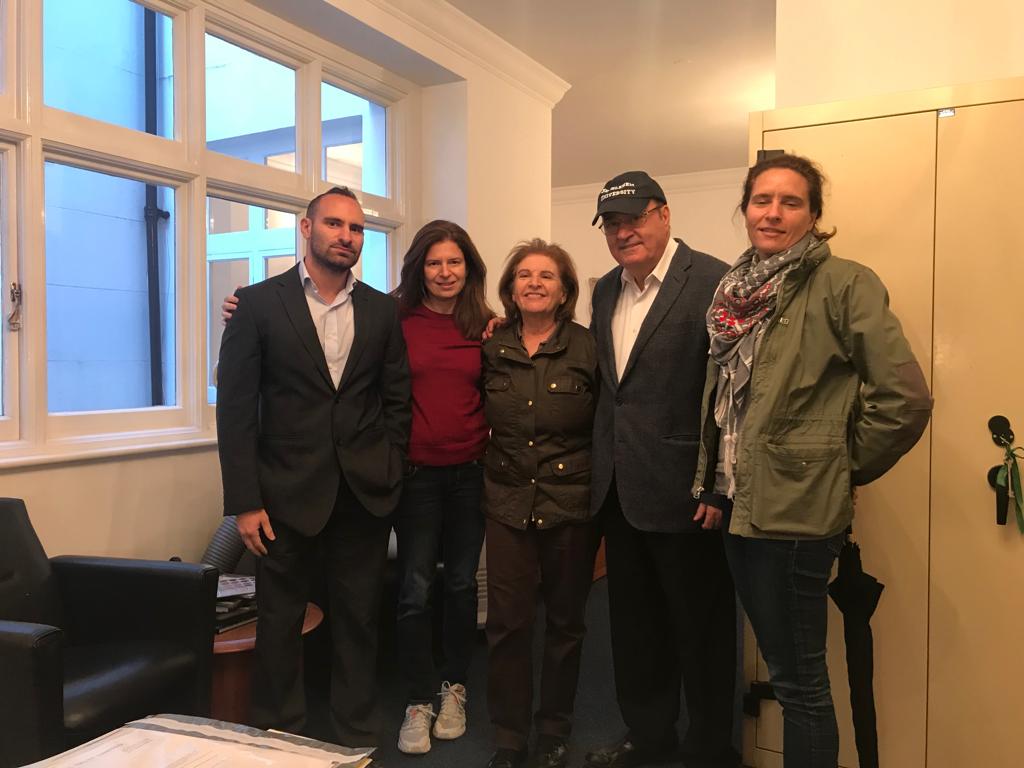 Currently serving as the president and CEO of Rock Creek Corporation, an investment company, Mr. Elias has been a seasoned leader in the Finance Industry for over four decades. Mr. Elias is a long serving member of the Board of Regents of Bethlehem University, the highest governing body of the University; secretary and patron of Bethlehem University Foundation; and member and advisor of several Boards including the Board for the American Friends of the Bethlehem Development Foundation, and the Board of Directors for UNRWA.
He is married to Ms. Annette Aburdene who is also a member of the Board of Regents and a generous supporter of Bethlehem University. Together, they established an endowment fund to support the education of Palestinians in Bethlehem University.
Mr. Elias had his first encounter with Bethlehem University in 1975 when he used to go to the University Library to study Arabic in order to pass an exam for his Masteral studies.
When asked why they so faithfully support Bethlehem University, Mr. Elias and Mr. Bassam claimed that they support education specifically at Bethlehem University due to the dedicated leadership they witness in the Christian Brothers, who courageously and authentically speak for the cause of Palestinians. They mention the late Vice Chancellor Brother Vincent Malham and the current Vice Chancellor Peter Bray as genuine examples of such exceptional leadership.
Mr. Bassam and Mr. Elias ardently invite all interested in Bethlehem University to seize the 50th anniversary of the University as an opportunity to visit the University and meet the lively and exemplary students as well as witness closely the commitment of the people who serve Bethlehem University to that end. They further underscore the importance of investing one's efforts in supporting the educational goals of Bethlehem University. And they emphasize that this Jubilee year is an apt time to carry this out.
Their words of advice for students are to be true to their principles. To be firm and steadfast, not losing hope in the face of difficulties. They believe that we should all be partners in the creation of the State of Palestine, where all will live a dignified life in authentic peace.
Mr. Bassam and Mr. Elias wish that Bethlehem University, in the coming 50 years may become an institution where students from Europe, the United States, Africa and Asia come and get the quality education BU provides, in addition to gaining an enriching intercultural-interreligious experience.
Bethlehem University is profoundly grateful to Mr. Elias and Mr. Bassam and their families, for standing in solidarity with the Palestinians as well as supporting the educational endeavors at Bethlehem University. Indeed, as the Holy Book says, "whoever sows generously will also reap generously."
This article appeared in the Bethlehem University magazine of Spring 2023 (Volume 30, Issue no. 2, pp. 16-17) Click here for the latest issue.