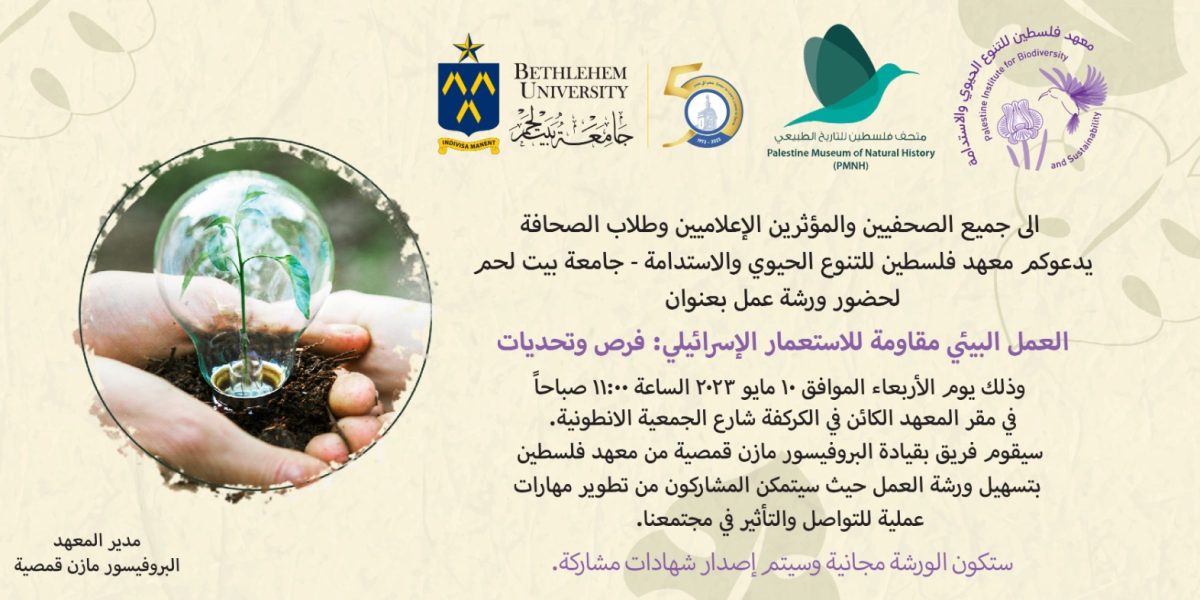 You are all invited to a workshop titled:
Environmental Work as Resistance to Israeli Colonization: Challenges and Opportunities
When and where: 11 AM to 1:00 PM Wednesday 10 May 2023 at the Palestine Institute for Biodiversity and Sustainability (location/map here http://palestinenature.org/vist)
Description/logic: Palestine is part of the Fertile Crescent where humans first domesticated plants and animals 12 millennia ago.  For these thousands of years, people lived in relative harmony with nature.  The sustainability of humans is dependent on the sustainability of nature. Sustainability is now threatened by climate change, habitat destruction, pollution, overexploitation, invasive species, and colonialism/wars.  The workshop will discuss these issues but also focus on solutions, especially those that help reduce climate change, such as the use of renewable energy, including solar energy, which in turn reduces carbon dioxide emissions and provides electricity, and the fact that environmental work and reconnecting people to the land is resistance that all segments of our society can engage in. A team led by Prof. Mazin Qumsiyeh of the Palestine Institute will facilitate the workshop. It will allow participants to develop practical skills of outreach and influence in our society.
The workshop is free of charge, and certificates of participation will be issued. Seats are limited so please reserve a seat by registering through the following link:
EVENT INFO :
Start Date:

May 10, 2023

Start Time:

11:00am

End Date:

May 10, 2023

End Time:

1:00pm