Mission and Objectives
Mission
The Department of Chemistry offers courses that lead to a Bachelor's Degree in Chemistry. The Chemistry program aims to develop critical scientific thinking as students develop their future careers or pursue postgraduate studies.
This program aims at giving the reader a general overview of the quality and level of the courses given in this department. It will also provide information about teaching and learning process, learning outcomes, serves as quality assurance document and gives way to review and analyze the planned aims.  The program provides a comprehensive training in the field of chemistry with an introduction to key principles of industrial chemistry especially detergents, polymers, pharmaceutical and environmental.
Objectives
At the end of the four-year program, students will be suitably and sufficiently trained for professional employment or further studies through having:
Understanding and knowledge of a wide range of chemistry topics, leading from the fundamentals, in the first two years, to the limits of existing knowledge in selected and advanced topics by the final year;
The ability to reason through unfamiliar problems. Reason: means that the students use critical and analytical thinking through various problems to be able to understand and solve.
The tools to investigate a topic in depth, is to find a way or systematic approach in analyzing and build up knowledge to reach a solution. In other words the scientific approach to solve a problem under question.
The skills to communicate their knowledge, both writing (report, paper writing using computers) and verbally (in using clearly the scientific language).
The development of teamwork and leadership abilities as well as for "safe laboratory practice". This is in terms of experimental Laboratory work, group experimental projects and field projects
The development of self-sufficiency, adaptability and the skills needed to acquire new techniques.
Efficiency in using the information acquired. This is measured by the student's ability of producing an excellent senior project and delivered seminar as well as special projects presented by the students in their Junior and Senior levels of study.
Skills in solving problems of a chemical nature, and in the interpretation and assessment of chemical data.
Faculty of Science News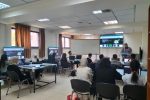 May 25, 2023
In a collaborative effort between the Department of Software Engineering…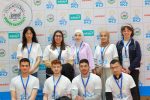 April 27, 2023
Bethlehem University's Software Engineering students recently took part in the…
Upcoming Events
No Events Available