Iman Saca was born in Bethlehem to Palestinian Christian parents; she went to St. Joseph School in Bethlehem and Talitha Qumi in Beit Jala. After the first Intifada started in 1987 Palestinian universities were closed, and her grandparents in the United States suggested to her and her brother to go to the USA to pursue their studies. Not knowing what to study, an adviser at the college suggested she take a class in anthropology. She fell in love with the subject! At the University of Michigan in Ann Arbor, she concentrated on the prehistory of the Middle East and the Levant, especially the production and use of stone tools. She did her M.A. and Ph.D. at the University of Illinois at Chicago in anthropology and archaeology.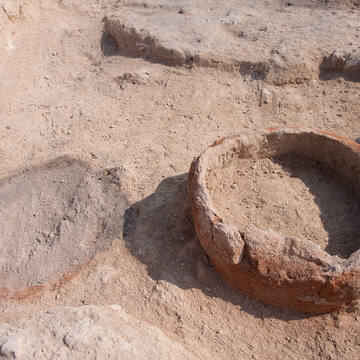 Iman currently teaches at St Xavier University in Chicago where she teaches anthropology and archaeology courses as well as the Middle East related courses. During the last 6 years, she has been the chair of the Department of Anthropology, Sociology, and Criminal Justice. She is the founding director of the Middle Eastern studies program at the university; the program instructs students on the Middle East, at the same time sheds light on the Middle Eastern community in Chicago. Some students travel to the Middle East to learn the language or do fieldwork, others do research among the Arab American community in Chicago.
When she is not teaching, Dr. Saca does her research and fieldwork in the Middle East. Her research took her to Syria, Qatar, and Palestine. In addition to her fieldwork in archaeology, she has been doing work that highlights the value of local and indigenous knowledge in archaeological fieldwork and research. Her latest projects focus on community archaeology, oral history, and public education in the field of archaeology and heritage. In her work, she advocates respect for local communities, their cultures, and perspectives, she also emphasizes the importance of learning from the local community and partnering with them to promote the value of heritage preservation and the need to protect the archaeological and cultural heritage from theft and appropriation. As part of her research, Iman also worked on listing two important sites on the UNESCO World Heritage List; one in Palestine (Battir Land of Olives and Vines) the other in Qatar (al Zubarah Archaeological site).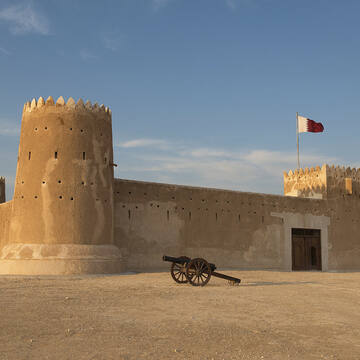 Each year Dr. Saca comes for two months to Palestine, to do research and fieldwork. As mentioned above, she has been involved in the nomination file to inscribe Battir on the UNESCO world heritage list, and she is currently working on a file to nominate Tel al-Sultan (Ancient Jericho). She participated in several archaeological excavations in Palestine, more recently at Hisham's Palace- Jericho. She is passionate about preserving and reviving the Palestinian art of embroidery through her work with the Palestinian Heritage Center in Bethlehem. Dr. Saca is part of the Palestine History, Heritage, and Curriculum Project; an international research project, that intends to offer a scientific, interdisciplinary reevaluation of Palestine's history and culture rooted in current archaeological, ethnographic, and anthropological developments. For the last 4 months, Iman has been on a sabbatical here in Bethlehem to initiate an oral history project in the district of Bethlehem. For this she interviews older people; men and women, about their memories, lives, and lived experiences, using audio, video, and photographs as documentation techniques.
According to Iman, Turath (heritage) and Athar (archeological places) are not at all about old bygone times or things, it is about the present and the future of a people and a nation. In the fields of heritage and archaeology, she considers Palestinians to be very lucky. Because of Palestine's tangible and intangible heritage, she believes that the people here have a very solid base upon which they can build a great future and a solid identity. In her view, a people's heritage should be a source of pride, strength, power, and a window to a promising bright future.