The Yunus Social Business Center – YSBC at Bethlehem University participated in the 12th Social Business Day which was hosted by Nobel Laureate Professor Muhammad Yunus from June 27- 30, 2022. The theme this year was: Building a New Civilisation—Before the Current Civilisation Destroys Us.
More than 150+ speakers including 30 globally prominent speakers, 14 country forums, and 16 plenary sessions were held during the four days. More than 700 registered participants from 66 countries joined globally.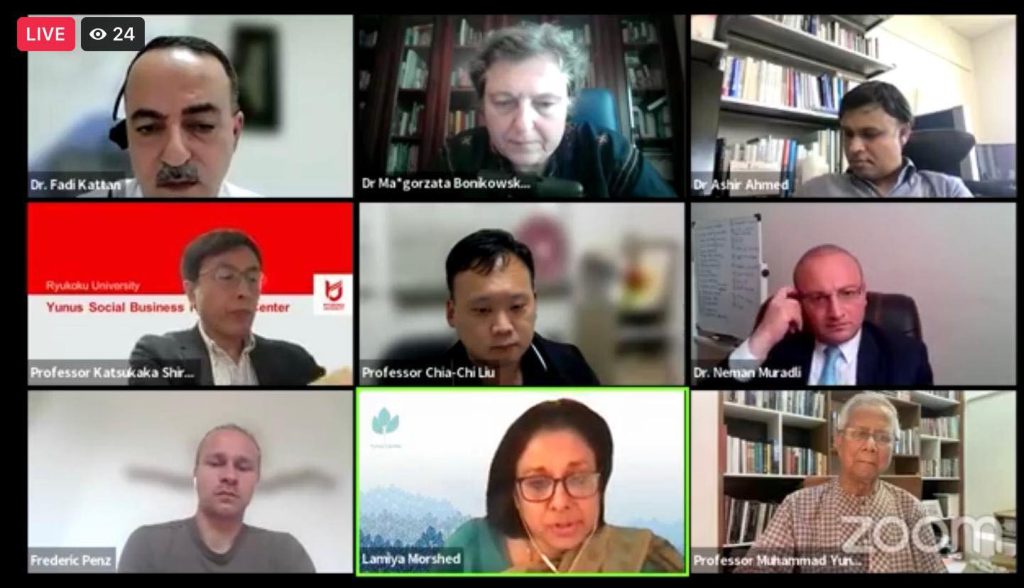 Dr. Fadi Kattan, Dean of the Shucri Ibrahim Dabdoub Faculty of Business Administration and Director of the YSBC, presented the achievements of the YSBC-BU' last year including the official opening of Maan Lil Hayat Boutique Hotel, the annual Yunus Social Business Festival, the EntrepreneHer event, and the 12 newly selected social business ideas.
Every year, Social Business Day is organized globally to discuss and celebrate the groundbreaking idea of social business. The event gathered an exciting line-up of Plenary Sessions covering the key areas of social business where experts of related fields come together to provide insights and updates. This event also creates an opportunity for participants to engage in various interactive panel sessions and workshops to broaden their understanding of their specific areas of interest.
Social Business Day is an annual event gathering that platforms the accumulated experiences of social business leaders and entrepreneurship to give shape to the future. This year's subjects include healthcare, fighting unemployment, cross-country collaboration in fighting climate change, the role of sports in social business, 3Zero Clubs, and academic research in social business.
For more information about the YSBC-BU please visit the link below: