Mission and Objectives
The Department of Social Sciences is an interdisciplinary department that has a major in Social work and Sociology, and minor in psychology. The department also offers a Master's in social work.
Our mission is both on academic and larger community level. The department teaching and learning is grounded in hands-on experience. The department provides a professional framework that promotes individual and collective dignity, respect for diversity, and human rights.
On academic level the department aims to prepare our students with knowledge, values, and skill to practice competently; to enhance active citizenship among our students through their practices and attitudes; to provide an atmosphere that nurtures faculty and student research and development.
On a community level, the Department of social sciences aims at making a change on macro and mezzo levels through providing a platform to advance and develop practices, set and implement policies and encourage cooperation, and advance the skill of practitioners on the ground.
Learning Outcome:
By their commencement graduates of the Department of social sciences are expected to:
Able to initiate and sustain changes
Aware of both local and global issues and matters affecting their community, and are aware of the interlinks between the two levels.
Own a culture of diversity, tolerance, social justice, and critical thinking.
Contribute to community change through networking, model development, and building capacity and research.
Active participants in developing knowledge.
Beginner practitioners are able to relate to social research and policy and generalist practice
Provide a generalist professional practice knowledge base that prepares students to work with wider client systems and at both community and individual levels.
Faculty of Arts News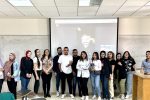 May 23, 2023
The Interactive Media Program at the Faculty of Arts recently…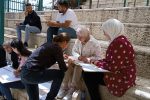 May 9, 2023
Bethlehem University's Archeology and Cultural Heritage Program remains committed to…
Upcoming Events & Announcements
No Events Available
Seminar: Researching youth in XXI Century