The Georgette Salameh Center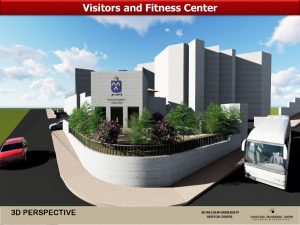 The University is planning to construct a Multi-Purpose Building Containing: Fitness Center, Visitors Reception Center, 150 Seat Theater/Lecture Hall, Parking Facilities and a Rooftop Terrace that Adjoins the Existing Cafeteria.
The mission of Bethlehem University is to provide quality higher education to the people of Palestine and to serve them in its role as a center of advancement, sharing and use of knowledge.
The University emphasizes excellence in academic programs and the development of students as committed people prepared to assume leadership positions in society. The University fosters shared values, moral principles and dedication to serving the common good.
This project will assist the University in fulfilling its mission by providing:
Vastly improved fitness facilities.
An appropriate venue where overseas visitors can meet and interact with Student Ambassadors of Bethlehem University.
A rooftop terrace that adjoins the existing cafeteria, where students can relax between classes.
Relocated and resurface basketball and tennis courts
Additional parking space in the basement garage