"Dancing Dabke is the only thing that helps me get out of the depression of passing checkpoints," said Nour Bakri a fourth-year student from Jerusalem who is majoring in Business Administration.
"When I hear the sound of music, I disengage from the whole world; I start to move my legs without even realizing it."
Nour is one of more than 20 students who gather twice a week to practice the unique combinations of traditional dance and music.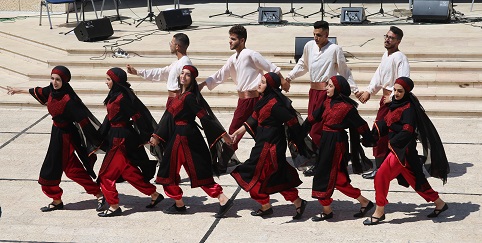 Majdal group, which was established in 2009, is made up of Bethlehem University students dedicated to learning and performing the folkloric dance dabke.
The group performs at University events and in local festivals.
Mrs. Mai Jaber, Assistant to the Dean of Students, who is responsible for the group, said, "We aim to preserve and promote the Palestinian artistic and cultural identity."
"The music and dance have universal appeal. Part of Majdal group's purpose is to connect with the community at large and share the joy of dabke."
The group was recently funded by the New Zealand Embassy in Cairo to buy new uniforms, which are shown in the photos.
This article appeared in the Bethlehem University magazine of Fall 2019 (Volume 27 – Issue no. 1) Click here for the latest issue.