Mission and Objectives
The mission of the department is to prepare a generation that takes pride in its language and culture. This generation exhibits and enjoys several characteristics mainly belonging to their nation: open to other human cultures; able to interact with past, present, and future; capable of solving problems; capable of absorbing and assimilating the different variables of their age; able to benefit from all developments which provide them with the essentials of development; capable of surviving; and able to assist their nation and people to be creative and innovative.
Department Overall Goals:
Supply the Palestinian society with qualified teachers at different academic levels in addition to translators and journalists;
Equip and qualify graduates with knowledge in scientific research;
Qualify graduates to pursue their higher education; and
Qualify graduates in areas of service to the Palestinian society.
Specific Objectives:
Knowledge:
Strengthen students' mastery of reading, listening, writing, and speaking skills;
Introduce students to different old and modern genres;
Introduce students to their language characteristics and styles;
Make students aware of aspects of the reciprocal impact of and on the Arabic language and literature over the ages; and
Equip students with methods of critical thinking, literary analysis, and poetic taste.
Skills:
Master nonverbal expression in a flawless meaningful language;
Master verbal expression in accordance with rules of syntax and semantics;
Excel in the use of linguistic and literary references;
Prepare scholarly research in accordance with the standard approach of scientific research; and
Excel in the analysis of literary texts in accordance with different analytical approaches.
Faculty of Arts News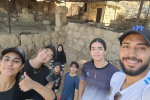 September 18, 2023
Students of the Archaeology and Cultural Heritage Program conduct their…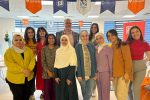 July 31, 2023
Thirteen students from the Department of English recently took part…
Upcoming Events
In conclusion of Bethlehem University's Golden Jubilee celebrations, we will celebrate the dedication of the new Students and Visitors Building, "Georgette Salameh Center" on Sunday, 1 October 2023. A mass will be held at 09:30…