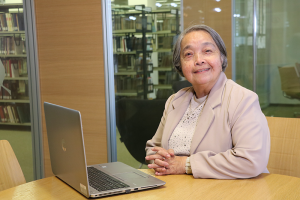 Library Bldg, Ground Floor, Office: L-103
library@bethlehem.edu
022741241 ext. 2024
Message from Director
Our modern, refurbished University Library is undoubtedly a state-of –the-art learning resource center which favours and provides a serious atmosphere for study and research.
We thank the ongoing support of Brother Peter Bray, Vice Chancellor, and are truly grateful for all the generous donors who sponsored – and continue to do so –  the modernization and provision of beauty and order in the various learning spaces of the Library. The trust we receive in this educational mission motivates us to offer better and effective services that align with the signs of the times as well as the ever-evolving needs of our academic clientele.
We welcome all members of the academic community – students, teachers and staff – to make wise use of this outstanding facility and avail of our professional services, as we journey together in this exciting adventure of pursuing what is essentially true, beautiful and good.
Dr. Mellie Brodeth