Spring Term 2018
"Welcome back" to e-turathuna as we commence Spring Term 2018.
We started the academic year 2017-2018 featuring a new genre – "the interview" –in an interactive encounter with Palestinians whose lives are marked with a "passion for turath." Fall Term featured Ms. Maha Saca, a Bethlehemite and a generous donor of Bethlehem University Library. If you haven't read this feature, click the following link so you are updated:
https://www.bethlehem.edu/turathuna/topics/a-passion-for-palestinian-turath
This Spring term, e-turathuna showcases Mr. George Al-Ama, who also hails from Bethlehem and is a Bethlehem University graduate having majored in English Literature with a minor in Business Administration. After completing his Master's degree in Archaeology at Al Quds University Abu Dis, he is currently pursuing his doctorate at the Hebrew University specializing in Archaeology.
George M. Al-Ama in his
Graduation Ceremony
from Bethlehem University in 2004
George M. Al-Ama with
his classmates during
a field visit of the
archaeological excavations
Mr. Al-Ama is not new to our efforts to put "turath" centre-stage. He made it literally possible to have the Jabra painting exhibition here at the Turathuna Centre, for which we are immensely grateful.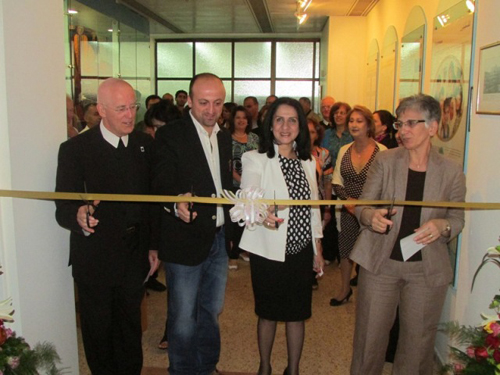 Mr. Al-Ama