Message from the Vice President
As chief academic officer of Bethlehem University, I am responsible for providing strategic vision, leadership, and management for Academic Affairs with the support of and in consultation with the senior academic officers, deans, chairpersons, and a dedicated qualified faculty. We are deeply committed to providing excellence in all areas of teaching, scholarship, and service through our five faculties and Institute of Hotel Management and Tourism. We are dedicated to our Lasallian mission and values, and committed to provide our students a supportive environment that promotes their success.
Mission
The Office of Academic Affairs supports, enhances, and promotes the mission of Bethlehem University by fostering academic excellence and providing overall leadership for all academic programs of the University. The Office advocates for, supports, and sustains excellence in teaching and learning; scholarship, research, and creative activity; and community engagement and public service. The Office is committed to creating an environment conducive to academic excellence and responsible citizenship.
The Office of Academic Affairs works to advance an academic environment in which quality, innovation, rigor/challenge, and active student learning and engagement are paramount. In accord with Bethlehem University's mission, the Office will be known for enhancing educational processes; promoting excellence in teaching, scholarship, and service; and fostering a spirit of inquiry and independence of mind in the pursuit of knowledge, all in service of the common good. The Office strives to promote a University culture that supports faculty, academic staff, and administrators at all career stages through a responsive and innovative professional development program.
Is committed to a broad academic foundation in the humanities, the arts, social and natural
sciences, communication, and quantitative reasoning;
Promotes the University's liberal arts heritage and its high-quality, challenging, and responsive
academic programs
Values student-centered learning and teaching focused on student engagement and success;
Protects freedom of inquiry and independence of mind in pursuit of knowledge;
Values professional development designed to enhance the quality of teaching and learning,
scholarship, and outreach;
Encourages interdisciplinary and international scholarship;
Recognizes and supports the importance of lifelong learning;
Supports collaboration/partnerships both within and external to Bethlehem University;
Reinforces an environment of continuous improvement and quality assurance through assessment
of programs, processes, and outcomes;
Recognizes and rewards academic accomplishments and leadership; and
Advocates for students, faculty, and academic programs.
BU News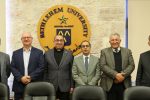 January 23, 2023
The presidents of Palestinian public universities met on campus last week within the framework of deepening the bonds of administrative,…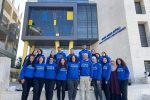 January 17, 2023
On Tuesday, 17 January 2023, the senior Physiotherapy students exhibited their adaptive equipment made under the supervision of Mr. Ibrahim…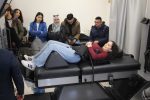 January 6, 2023
The Physiotherapy Clinic of the Faculty of Nursing and Health Sciences at Bethlehem University announced last week that it has…